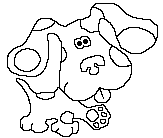 TJ'sLinks Page


Merchandise
Lisa's Toys-New Blue's Clues Merchandise - Blue's Clues fans can get up to a 20% discount on most Blue's Clues items.

Just click on the pawprints below to follow the links.
Someone send me a letter!

All images © Viacom International and Nickelodeon. We are not affiliated, in any way, with Blue's Clues or Viacom.
LE FastCounter